Employee discounts that
save time and money.
Connect your employees with exclusive savings at local and national businesses both online and around town.
Corporations Partner With Passport
Consistent and engaging discounts for your dynamic workforce
Employees can use their favorite discounts again and again at any participating location. Our average discount is 20% off. Plus we're always growing our network, which is largely based on employee suggestions.

Restaurants
When dining with a guest, members receive their second entree compliments of the restaurant.

Local Merchants
Neighborhood offers such as local retailers, auto repair, carwashes, gyms/fitness classes, attractions, recreation and more.

Online Merchants
Recognizable national brands with a wide selection of online and travel offers, including electronics, attractions, hotels, rental cars and more.
Mobile App
Passport's mobile app allows your employees to access offers on-the-go and locate nearby employee discounts. Search by location, keyword or filter by category. Offers can be redeemed directly from our mobile app.
Website
A customized branded online portal will be created for your employees to obtain their company branded membership. Through our website, employees will have access to view the discounts available to them as well as redeem online offers. Employees can search, browse as well as suggest new merchants for the program.

Family Sharing
With our corporate programs, discount benefits are intended for both the employee and their immediate family. All membership cards can be shared with immediate family members, allowing savings to really add up!
Member Relations Team
Our dedicated Member Services Team is here to help! If employees experience any issues using the program or have general program question, our team can be reached by phone or email during normal business hours.
Passport has over 20 years of experience developing and maintaining customized corporate discount programs for corporations. Our experience, quality and consistency of offers, dedicated customer service and unrivaled restaurant benefits is what makes us different. We have formed trusted partnerships with numerous Fortune 500, as well as regional and local companies.
Program resources for your success
We work hard so that you don't have to! Passport gives you the support and resources you need to make your program a success with employees.
Looking for a unique reward for your employees this year?
A Passport Employee Rewards membership provides an opportunity for you to recognize and reward your employees even if you're not able to celebrate together in person. Your employees will receive a membership that provides savings at over 11,000 great locations, including national, regional, and local businesses. Now is the time to begin planning for yearend rewards – we look forward to supporting you and your employees in 2022!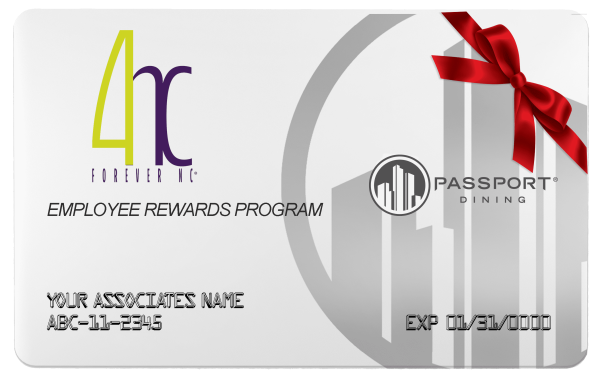 Each Passport card will be branded with your company logo identifying the cardholder as a recipient of your company's Employee Rewards Program. Each time they use the card they will be reminded of the value that you have put on them as a member of your team.
Plus every time the card is presented your company will build goodwill in the community as a company that values the work-life balance of your team.